Since returning from my travels and moving back to my North Devon roots, one of the many things I enjoy about my new life is having a patio that I can see from the comfort of the turquoise sofa. Many of you will know that despite its name, my last house – Tower View – did not actually have a view of any tower, more pertinently, it also didn't have any windows facing onto the patio so there was nowhere you could sit to watch the birds. I fed them, but never got to watch them, just picked up the bird table several times a week because it was always falling over.
Chertsey House, where I live now, is a 4 hour drive from Chertsey, my student flat at Woking Close was nowhere near Woking, and I doubt that Cantaloupe Close was built on an ex-melon field, so perhaps I am destined to always live in houses with false names, however here at Chertsey House, I can sit on my turquoise sofa and watch the birds til the cows come home (which they do, there's a farm two doors down).
This autumn, my collection of bird feeders grew from two to eight, there's now a whole cupboard dedicated to bird food in my board room (that's where the surfboards, ironing boards and board games are kept – I'm sure you can guess which type of board I use the most often). And the ring ouzel and I have formed such a friendship that he now comes and sits on the patio step and waits for me to go out and talk to him.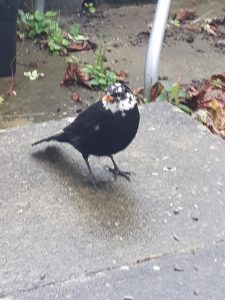 So as you can imagine, I was looking forward to taking part in the Big Garden Birdwatch this weekend, where people throughout the nation are asked to record how many of each species of bird they see in the space of an hour.
I was all set. There was hot chocolate for me and seven varieties of food for them. And so the show began. The little birds flocked to the patio, the bigger birds flocked to the garden. I greeted them all with delight (obviously they couldn't hear me as the doors and windows were shut) and ticked them off my list. Everyone was happy. And then the drama struck.
THWACK! Thirty-seven minutes into my calm, happy bird watching hour, just as I was looking at the identification guide to check the difference between the common gull and the black headed gull (this is as misleading as the houses I've lived in, black headed gulls don't necessarily have black heads), one of the gulls in question thought he would come a bit closer to help me out with my identification quandary. And so he flew as fast as he could into the closed window behind my head.
I jumped so far off the sofa that every part of my neck and upper back locked together in spasm. I spun round to see what had happened, and there was a black headed seagull with no black head and not a lot of life left in him, lying on his back, staring at me through the window from behind a flower pot, surrounded by feathers, looking quite forlorn and not ever so sure of how he had got there.
My voice ascended into falsetto and the air went blue as I loudly pondered what I was supposed to do now. Living with goldfish is great, but they never offer to take the lead when you've got a crisis to deal with. It's always down to me.
Then there was a flutter of wings and I breathed a sigh of relief. He had obviously survived his spectacular crash, and was now going to carry on with his day – or go off to die in somebody else's garden. Then I realised it wasn't his wings that had been flapping, but the wings of an evil looking bird who had swooped down to finish him off.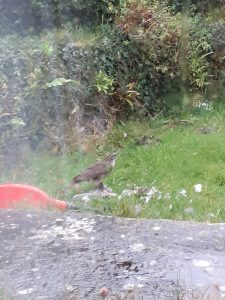 "Far out," I said, because this is what my Australian friends say, now that they've all had children but still need an expression beginning with F to convey feelings of shock or distress.  Nobody had warned me about this when I signed up to do the bird watch weekend. I thought I was going to be watching birds eat peanuts and hop around the patio, not kill themselves and eat each other.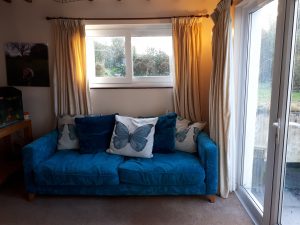 Funnily enough the bird survey was not comprehensive enough to have a box to tick for the events unfolding in my garden, nor did it have a picture of the evil bird. Presumably these birds don't come to gardens regularly enough to appear in the normal survey, only to act as cannibalistic undertakers. However the rules are that you have to list every bird you see, and so I was going to have to work out exactly who this evil bird was.
"Are you a sparrowhawk?" I asked through the closed window, holding up my laptop screen to compare the real bird with the photo. "Or a hobby hawk?" The bird ignored me and continued to feast gleefully on the gull which I hoped was dead by now. "Do you think you could take that away?" I inquired. "This is a takeaway restaurant, you're not supposed to dine in." I thought about banging on the window to emphasise my point, but I didn't want him to fly off and leave the partially eaten seagull behind.
I turned my attention back to the nice birds who were doing what they were supposed to be doing, feasting and fluttering at the feeders, completely oblivious to the horror scenes taking place just around the corner. The Evil Bird retreated to the bottom of the garden, taking his prize dead gull with him, and eventually he flew off completely, leaving just a patch of feathers to mark the traumatic occasion.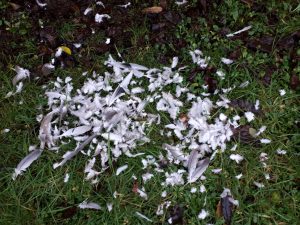 My bird watch continued, but who knows if I counted the correct number of bluetits and dunnocks, or a if a couple slipped by unnoticed after all the drama and distraction of what will undoubtedly go down in history as The Traumatic Seagull Incident.
With my terrified leap off the sofa sending my neck and back into the sort of spasm that can only be eradicated by a deeply painful and brutal sports massage, it really didn't help that later in the day whilst getting ready to go out to the theatre I stepped on an ill-placed hairbrush and went sliding uncontrollably down the stairs encountering two wombats a pile of paperwork and a very painful hairdryer as I went – which I somehow managed to switch on, possibly with my toe as I descended down the stairs, landing in a heap and wondering what was making the whirring noise.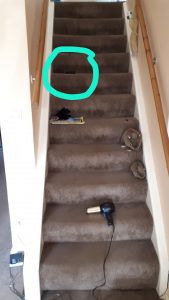 And so these are the hidden dangers of bird watching that nobody tells you about. It's not all about relaxing on the sofa, watching the sparrows dart about. Birds die. Other birds eat them. Dedicating a day to sitting at home watching birds can lead to a whole range of injuries I didn't have before I started the bird survey, including  sore arms, sprained thumbs and bruised elbows from falling down the stairs and whiplash from my frightened leap off the sofa.
In comparison, today I went to the beach and climbed up some of the highest rocks in my wellies whilst gale force winds whipped up the sand and sea around me. And I came home completely unscathed.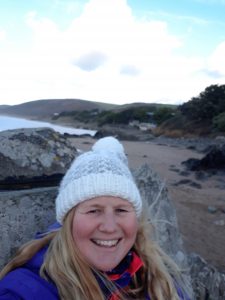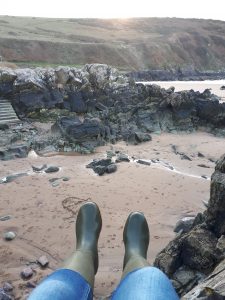 Just like the black headed gull who doesn't have a black head, the Tower View which has absolutely no view of any tower and my ability to scramble up tall rocks safely, yet injure myself whilst bird watching from the comfort of a sofa, it seems that absolutely nothing is as black or as white as it may first appear.