An Italian backpacker has failed to understand that the helpful British woman who has aided him through every stage of his hostel stay so far is also a guest at the hostel and not a member of staff.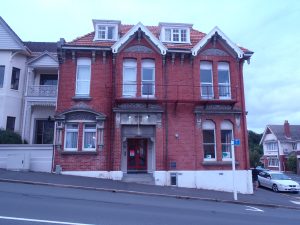 Caroline Gough, who has so far only spent one night at the backpackers in Dunedin, New Zealand herself explained "I heard the doorbell ring several times and as nobody else was around, I decided to answer it."
Caroline was met by 27 year old Alberto who has taken 6 months out of his IT job in Florence to travel the world.
"He was very jovial and talkative," said Caroline. "I took him to reception and there was an envelope with his name and room number on it, and a key inside. I was going up the stairs anyway so I ended up helping him with his heaviest bag and taking it to room six for him."
Alberto asked Caroline where the bathrooms were so she pointed them out and also shared a tip about adjusting the water temperature of the shower that she had discovered earlier.
"Obviously I thought that was the end of it," said Caroline. "But fifteen minutes later he appeared in the living room repeatedly calling me wifey until I gave him the code for the internet."
Alberto tracked Caroline down for further assistance when he couldn't find a cheese grater, when he needed a map of Dunedin and for recommendations of what to do tomorrow.
"By this point I realised he thought I was a staff member," said Caroline. "But seeing as I knew all the answers to his questions, I just went along with it and helped with all his enquiries."
However on Wednesday morning Alberto accosted Caroline in the kitchen whilst she was boiling an egg and said he was checking out and required his $20 key deposit returning. "I told him I wasn't working today and asked him to go and see one of my colleagues," said Caroline. "I don't mind being helpful, but I draw the line at giving my money away."
Many backpackers on the east coast of New Zealand follow a similar itinerary to one another, travelling the same route and visiting the same tourist hotspots so it is not uncommon for backpackers to cross paths with each other from one location to the next.
"It would be funny to bump into him at the next hostel," said Caroline. "I wonder if he'd finally realise that  I'm just another backpacker, or if he would assume that I'm managing a whole string of hostels up and down the coast."