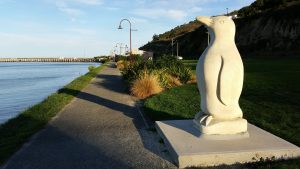 It was a severe case of mistaken identity as two female British tourists repeatedly pointed excitedly at blobs of seaweed, incorrectly declaring them to be penguins.
The errors occurred at the Blue Penguin Colony in Oamaru, New Zealand this evening as a group of 420 people congregated to watch the penguins make their daily journey out of the sea and into their burrows at bedtime.
Caroline Gough, a 36 year old tourist from North Devon, England was sitting beside the two ladies. She told us: "I had arrived at 8pm to get a good seat but I had been informed that the penguins wouldn't start to come ashore until at least ten to nine. I was happily enjoying the scenery and flicking through my New Zealand Lonely Planet to pass the time, but these women kept tapping me excitedly and pointing at things in the sea that were very clearly blobs of seaweed and not penguins."
Despite continuously getting it wrong, the ladies remained undeterred and frequently nudged complete strangers and pointed out various blobs of seaweed to them whilst providing an enthusiastic and inaccurate commentary about the non-existent penguins.
The real penguins finally began emerging from the sea and make their way up the shore at 8:56pm. At 9:04pm after seeing only 19 real penguins, the two British tourists stood up and bid a loud farewell to everyone around them.
Caroline said: "I stayed for at least another hour watching hundreds of  penguins make their way up the beach. It was magical to sit under the stars and see the penguins in such close proximity. Some of the penguins ducked under the railings and stood really close to my feet, and I also saw a sealion. The ladies left before the magic really started, but maybe they think seaweed is more magical than penguins."