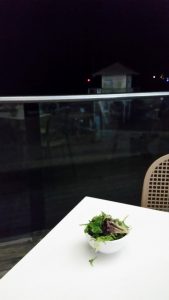 A 6 year old boy has been hit in the face by some flying lettuce leaves at a popular open air Mooloolaba restaurant.
The incident occurred just before 7 o'clock this evening when a gust of wind blew through the restaurant, sending menus, beer mats and the bowl of lettuce flying through the air.
The lettuce, consisting mainly of cos, lollo rosso and spinach leaves, had been served in a little salad bowl along with Caroline Gough's chicken parmigiana and chips.
Caroline explained "Now that I've got colitis, I can't eat that sort of lettuce anymore because my body doesn't digest it properly. I had picked through the bowl and found the miniscule amount of tomato and thimbleful of grated carrot, but there wasn't much there besides the lettuce. I was thinking what a waste of food, little did I know it was gearing itself up to be used for entertainment purposes."
The boy who was watching an animated cartoon on his iPad whilst dining with his parents seemed unscathed by the drama.
Caroline added "As I was leaving, I noticed there was a lettuce leaf stuck to his Father's leg, but I decided not to mention it. I'm sure he'll find it later."