Sporting enthusiasts from across the globe have spoken of their disappointment after being misled by a residential street in Australia.
"Badminton Court" in Geelong, Victoria is a residential street which contains several houses but, despite its name, no sign of any shuttlecocks or sporting facilities.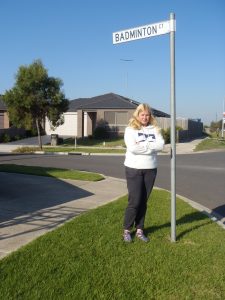 Caroline Gough who is currently travelling around Australia said "Who doesn't love a good old game of badminton? When I saw that there was a badminton court in Geelong, naturally I put on my sportiest clothes and and raced along to have a game. Imagine my disappointment when I discovered that Badminton Court is just the name of a residential street. I'm sure I'm not the first person who's made this mistake."
The street was keen to fight back. "I'm sure it's only people who have degrees in English Language and Linguistics who insist on being so literal. What about Dead Dog Lane and Queen Street? People don't go flocking to those streets thinking they're going to bump into royalty or trip over a deceased dog. There are millions of residential streets all over the world and if we were all named after physical features found within our street it would be very limiting. We'd all have names like Pavement Avenue or Telegraph Pole Road. That would get awfully confusing for the postman."
Badminton Court is located in the Geelong suburb of Marshall which Caroline believes could cause further confusion. "If you type or speak "Badminton Court, Marshall" into a search engine, you don't get directions, you either get a list of leisure centres that offer badminton and martial arts, or you get information about court martials."
This is not the first time that the reliability of a place name has come into question during Caroline's travels. Back in June she carried out a series of conclusive experiments which confirmed that Magnetic Island is in fact not magnetic.
"However at the other end of the scale, some places go out of their way to live up to their name," said Caroline. "Earlier in the year I stayed at an airbnb in Manly and glued to the kitchen window sill was an air freshener that squirted out a masculine aftershave scent every 20 minutes just to remind me that I was in Manly. It seems to be one extreme or the other."
Caroline confirmed that she still intends to give Wee Wee Creek and Wasp Island a very wide berth.