A herd of cows have spoken of their anger over an advertising campaign that they have labelled insensitive and callous.
The cows who live near Warrnambool on the Great Ocean Road claim that the first they knew of the plans to place a board advertising a fast food restaurant specialising in beef products in their field was when they woke up and spotted the board on Tuesday morning.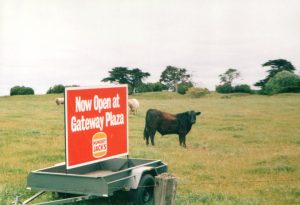 "We are not stupid," mooed the cows. "Whilst humans continue to fret and ponder about where they go when they die, we know exactly where we're headed. But we don't need a great big board in the middle of our home to remind us that we're destined to end up inserted into a bun and then covered in cheese, ketchup and gherkins. We prefer to look at the trees, the sky and the passing traffic."
Backpackers travelling around Australia have been thrilled to discover the "five for five fifty" money saving offer at Hungry Jack's where they can feast upon a hamburger, chips, chicken nuggets, a drink and an ice cream for a mere $5.50.
Hungry Jack's is well known throughout Australia for its slogan "The burgers are better at Hungry Jack's".
"We don't find that much of a consolation," mooed the cows.