A New Zealand backpacking hostel has created a series of innovative sleeping spaces, designed to make all backpackers hate each other.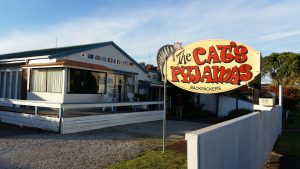 The Cat's Pyjamas specialises in worn out bunk beds with saggy bottoms, ensuring that no backpacker ever gets a good night's sleep.
Caroline Gough who has been staying at the backpackers explained "When you get into bed, the mattresses are so saggy that absolutely everything slides into the middle of the mattress and creates a big dip. As it's a cramped room with no space to put personal belongings, we all go to sleep with our phones, water bottles and room keys under our pillows or beside our heads, and we all wake up to find that we're in pain because all these items have worked their way down into the dip in the mattress and are now piercing our bodies or digging into our ribs."
With absolutely no suspension left in any of the mattresses, it's difficult for the backpackers to get comfortable enough to fall asleep, but when they do they are quickly awoken by their room mates, because absolutely any movement causes the ancient springs to make a loud creaking noise.
Caroline added "I've got a bottom bunk which is usually considered a good thing in the backpacking world. But the mattresses have such saggy bottoms that the girl above me is literally dipping down into my personal space and I can see and hear every movement she makes."
The atmosphere of room 8 had been quite jovial before the backpackers went to bed, with the eight occupants chatting and sharing travel stories, but by the morning the dynamics had changed dramatically. "After a restless night of listening to each other fail to fall asleep, we were all glaring at each other furiously," said Caroline. "Deep down we all know it's the beds' fault, but we're all too tired to think rationally."
The hostel ensures that absolutely no backpacker gets a good night's sleep. "My friend Christine has a private room with a double bed, so you'd think she'd be okay" said Caroline. "But her room has been built right onto the smoking deck, so instead of sleeping, she gets to listen to all the nocturnal backpackers chatting and smoking. Obviously they don't bother to go to bed because they've been here a couple of nights and know that the beds are too worn out to even bother trying to sleep in."
Whilst the hostel fails to create a good sleeping environment, it has worked hard to live up to it's feline name. "There is cat memorabilia everywhere," said Caroline. "I do like quirky hostels with character and you can't say these people haven't tried to cram cat related tat into every available corner."
The hostel is currently for sale. "I think if a cat lover bought it, and turned it into a cattery for cats when their owners go on holiday, it would be perfect," said Caroline. "Cats are an ideal size for settling down into the saggy bottoms of each mattress for a cat nap. For them this hostel really would be the Cat's Pyjamas."