A seagull from New Zealand has been displaying some excellent netball skills on a north island beach in his attempt to get fed.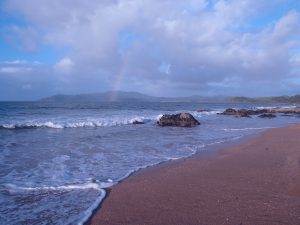 Tourist Caroline Gough who was eating chips at Cable Bay was impressed with the seagull's amazing ability to dodge around the other seagulls and find an unmarked space, using the same strategies that a highly skilled netball player would use when making themselves available to receive the ball during a game.
Caroline who played Goal Attack in a netball team for many years explained "Dodging is a very important part of any netball game. You fool the person who's marking you into thinking you're going in one direction, then you quickly sprint in the other direction, freeing yourself up to receive the ball. This seagull was doing the exact same thing in his quest to get my chips, whilst the others just squawked loudly and annoyed each other."
The seagull also impressed Caroline with his ability to make eye contact and call for her attention just as any professional netball player would.
Caroline said "I never ever feed seagulls, not after that traumatic incident in Weymouth that we don't talk about. But I don't think this particular seagull was a seagull. I think this was a netball player trapped in a seagull's body."
Caroline and the seagull proceeded to enjoy an intense training session together. "Like the majority of the population, I find that I can never eat a whole portion of chips," said Caroline, "so I began throwing leftover chips to this seagull one at a time. This prompted the other seagulls to up their game and try to outsmart us, but we never failed. The seagull got into a space every time and received my chip before any other seagull could intercept it. We made the perfect team."
The seagull said "I have lived in New Zealand all my life and netball is an important sport here, our netball team is one of the best in the world. I often hang out at the local courts to watch the players train and pick up a few tips myself. I would love to play a proper match one day. I think I'd make the most perfect Wing Attack, because unlike most netball players I've actually got a pair of wings and would be happy to use them to attack my opponent."