A British skier has spoken of her ordeal at the hands of a kindly retired couple from Valtournenche in North-West Italy.
Caroline Gough from Devon met Fabrizio and Fulvia Fogliati last week whilst skiing in the popular Italian resort of Cervinia.
Caroline explained "At the start of the day many people head to a ski area called Plateau Rosa by taking a series of three gondolas. Being in a gondola is a little bit like being on the tube, although the social etiquette is not quite so prescribed. If you like you can keep your sunglasses on and glare frostily at your fellow commuters, but some people have been known to remove their sunglasses and helmets and smile at each other."
In the first gondola, Caroline exchanged a smile with the Italian couple. They then ended up sharing the second gondola where they exchanged general pleasantries about the snow conditions and established where each other was from. By the third gondola the conversation was flowing quite naturally and both parties were enjoying it.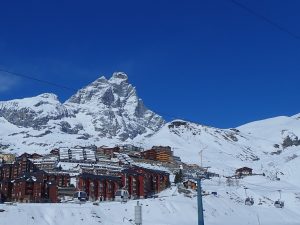 "I assumed that would be the end of it," said Caroline. "But then they invited me to ski with them. I laughed and said no, because I figured I'd never be able to keep up with an Italian couple who've been skiing since forever. They said that I was probably faster than them because I'm younger, so I said that if we were still together at the bottom of the first slope then I'd join them. I honestly thought I'd never see them again."
However Caroline found that her new friends skied at a similar pace to her, and so agreed to ski with them into the Swiss resort of Zermatt. "I'd already done it the day before," said Caroline. "But Franco and Fulvia wanted to take me a different way."
It transpired that Franco and Fulvia's favourite route involved a long steep and icy narrow black run which was marked 'for good skiers only'. Caroline said "The run was actually called Furi which shows just what an angry run it was. You have to ski down this near-vertical wall of ice, then shoot round a narrow and icy corner with literally just a thin piece of orange string to separate the run from the death drop beside it. You also have to do it at top speed to keep up with your crazy new friends and you definitely can't lose face by breaking into a snowplough."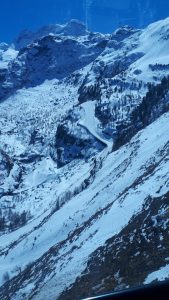 Furi is steep, narrow and icy 
It turned out that all of Fabrizio and Fulvia's favourite runs were similar to Furi and Caroline found herself skiing along many narrow icy tracks, over the edge of steep precipices and at one point over a rickety old icy bridge with several missing slats.
Caroline said "It was absolutely terrifying, but I kept up and didn't fall over, so I'm very proud of myself."
Fulvia told us "Now that we are retired we can ski every day of the season. We love it, but it can get a bit monotonous, just the two of us."
Fabrizio added "We were worried our marriage wouldn't survive once we stopped going to work and had to actually spend time together. But then we began playing 'Terrify a Tourist' and we've never looked back".
Fulvia said "We usually lose them over the edge of Furi, but for those that do manage to keep up, we've got plenty more treacherous runs up our sleeves."