A British skier has failed to win the deep fried lottery at a hotel in Italy.
Caroline Gough who spent seven nights at the hotel in the skiing resort of Cervinia explained: "Every night the meal begins with a buffet starter and on the first night I discovered that other diners were eating delicious balls of mozzarella deep fried in breadcrumbs which I had somehow managed to miss. Deep fried cheese is one of my favourite things."
The next night Caroline eagerly helped herself to a generous portion of deep fried balls, only to discover that on this occasion the balls did not contain mozzarella cheese, but instead a ghastly concoction of mashed fish. "It was horrendous," said Caroline.
Not wanting to make the same mistake twice,  the next night Caroline approached a waitress to ask what was inside the balls, however this caused unexpected drama. "The waitress had to go and get three other waitresses and they stood beside the deep fried balls having a very animated conversation in Italian before confessing that they didn't know what was inside the balls."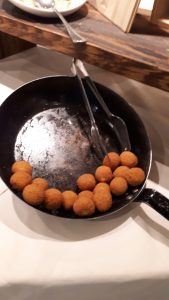 A waitress then used the serving  tongs to attempt to cut into a ball. "It wasn't the most effective implement to use," said Caroline. "When she stabbed at the first ball, it flew out of the bowl and embedded itself in the chocolate mousse at the neighbouring dessert table."
There was more success with cutting into the second ball, but it still took the four waitresses a long time to establish what was inside the ball and then they realised they didn't know the English word for it, which left Caroline none the wiser.
Caroline said "After all their efforts, I felt I had to at least try one, but I wish that I hadn't. I don't know what it was, but it definitely wasn't cheese."
For the remainder of the holiday, Caroline tentatively tried the deep fried balls every night but did not succeed in finding any that contained mozzarella.
Caroline said "what's particularly ironic is that at breakfast they always label the self-explanatory boiled eggs and the delightfully inaccurate plumps in syrup, but when it comes to less obvious dishes they choose to leave us guessing."