A hamster and his owner have celebrated three weeks of living together by making it Facebook official.
Syrian hamster Putney was previously living with his brother at Pets at Home in Barnstaple, but took the big step of moving in with Caroline just five days after they first met.
Caroline said "We've spent the last three weeks getting to know each other and learning each other's daily routines. I introduced him to some of my friends quite early on and obviously I've already met his brother, but we now feel that we're ready to take the next step and let Facebook know that we are living together.
Facebook is a well-known platform for sharing important news. As well as announcing pregnancies, engagements and living arrangements, many Facebook users immediately turn to Facebook when they want a wide audience to know what they've had for dinner or to cryptically vent frustration about a non-identified situation that leaves most of their friends nonplussed.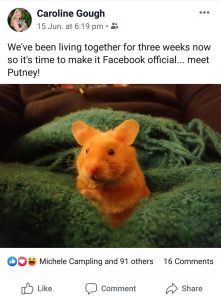 Putney, who doesn't have his own Facebook account yet,  said "We've got 92 likes already and we're really pleased with that. We'll be taking lots more photos of our lives together for all our friends to see. My paws aren't heavy enough to use a smartphone yet so Caroline will have to upload all the photos whilst I concentrate on looking cute."
Caroline added "We're currently growing lots of different vegetables in our garden, so won't it be precious when we post a photo of ourselves sharing our first pod of peas together."