Sunday 19th April 2020
A British chocolate bar has spoken of his epic journey after he was won in a game of Bingo during the current coronavirus lockdown.
The Milk Chocolate Bounty who expires on the 4th October 2020, was awarded to the person who first crossed off all their numbers and shouted "Bingo" during Game 2 of the 2pm game played via videolink earlier today.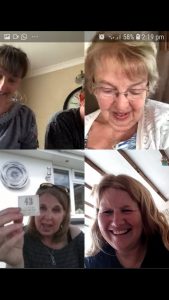 The Bounty said "Most of the players are related to one another and either live close to one another in the village of Braunton, or really far away in places like Bournemouth or 'the North'. But I was won by random friend Caz who is currently self-isolating up a very steep hill in the village of Georgeham."
Bingo caller Julie Dalling immediately took the Bounty on a mile and a half social distancing walk, past the home of number one blog fan Doris, to the home of Martin and Katie Webber. The Webbers and Amber the Springer Spaniel, then undertook a seven mile government approved round trip to deliver the Bounty to the front door of Caroline Gough, who was in the garden with an intermittent wifi signal and had no idea of all the effort that was being made to deliver her prize with such efficiency.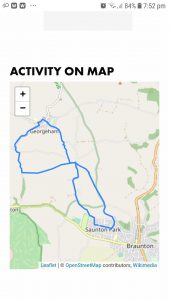 "It was quite a walk," said the Bounty. "I'm glad I was being carried. I'm lucky I didn't melt or get eaten during the journey."
Once they had arrived in Georgeham, the Bounty was placed on the doorstep. "Mr. and Mrs. Webber did attempt to contact Caroline, but the messages did not deliver in time and so they left me there," explained the Bounty. "It was quite a scary experience, especially with the number of dogs and children currently being taken on daily walks."
Luckily the Bounty remained fully clothed and untainted for Caroline to discover almost an hour later.
"I was then welcomed into Caroline's home where I was introduced to the two little ducks who had made quite a racket every time the Bingo caller announced the number 22."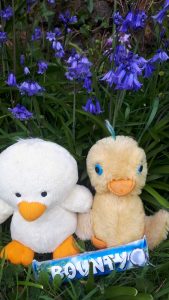 "I've done more in a day than all other chocolate bars do in a lifetime," said the Bounty. "I can't wait to see what happens next."
A spokesperson for Miss Gough said: "It's true that the Bounty has been on quite a journey, but we envisage the end is near. Miss Gough is a huge fan of chocolate. We anticipate the Bounty will not live to see another night."