This year on my 39th birthday, two fairly significant things happened. Firstly the World Health Organisation declared the coronavirus to be a pandemic, and secondly my dishwasher broke. A worldwide disaster and a personal inconvenience.
A broken dishwasher pales into significance compared to a world health crisis, so putting things into perspective, I decided not to look upon the dishwasher as a big deal. After all, some people get through their entire lives without ever having a dishwasher. I could survive a few weeks.
Turns out that I am rubbish at washing dishes, and in the four months and nineteen days that I have been without a dishwasher I have got worse, not better.
I used to wash up all the time. Warrens Bakery paid me to wash dishes when I was 16 so I must have been pretty good at it back then, and I did more than my fair share of washing up in some of the London and Australian flat shares I used to live in. It's only since getting a dishwasher when I bought "No Tower View" ten years ago, that my brain decided to erase all my washing up skills to make space for learning something else (at 29 I was learning about mortgages and growing my first cucumbers, it seems reasonable that my brain could easily have deleted "dishwashing skills" to free up space for "home ownership" and "gardening" knowledge).
My reunion with washing up started quite badly as I ran out of Flo Gas soon after my birthday and had to survive 5 days of cold water and no heating before they could do a delivery. After that I was thrilled to be able to create bowls full of hot soapy water in which to put all my dirty dishes, but I much preferred leaving everything "to soak" whilst I went for my daily walk around the fields, rather than actually doing any scrubbing or rinsing myself. By the time I came back from the daily walks, the water was always cold and I had to start again.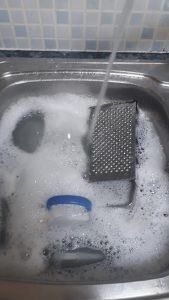 Soon after my reunion with washing up began, I developed huge red sores all over my fingers and I decided that I was probably allergic to Fairy Liquid. It made complete sense. I hadn't used Fairy Liquid for years, and now that I was using Fairy Liquid every day, my hands were having an allergic reaction. What didn't make sense was that my toes had also developed the same red sores, but I figured that these had just come out in sympathy for the fingers.
The fingers and toes were waking me up every night, demanding to be itched so I eventually decided that I needed to tell a doctor about my fingers and had the fun of describing the current state of my toes and fingers to a doctor who was either working from home or taking my phone call whilst simultaneously having an appointment with several small screaming children in his surgery.
"What do you think is wrong with your fingers?" he asked as CBeebies blared loudly in the background.
What did I think was wrong with my fingers? I don't know mate, I got a C in GCSE Science and left it there. I was thinking we might use your medical degree to find out what was wrong with my fingers. I babbled on for a bit about the Fairy Liquid and then he asked me if I'd been spending more time outside recently. I said yes, and he said perhaps I'd picked something up in the garden, but the only thing I'd been picking up in the garden was a good book, and I doubted that this was causing the drama.
He tasked me with the job of emailing him some photos of my fingers, and until that day, I had never realised just how difficult it is to take a photo of both your hands when you haven't got anyone to help you.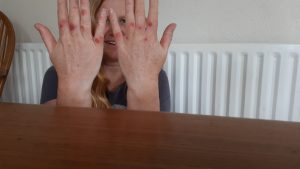 However I needn't have bothered, because this is the doctor who, no matter what you go and see him about, will always prescribe exactly the same tube of steroid cream. And that's exactly what he did, along with a vague diagnosis of "some sort of dermatitis."
I didn't go and collect the cream because this was the exact time that the local pharmacy had hit the headlines for having four hour queues, which was not my idea of a good way to spend a sunny Tuesday, and by this point I had developed a cough and had started self-isolating. But I already had several tubes of steroid cream ranging from 2005 – 2019, all prescribed by the same doctor, so I just found one of those at the back of a cupboard and hoped it had a longer life than the expiry date suggested.
I asked the person doing my shopping to get me some marigolds gloves to wear for washing up, but unfortunately when they dropped off my shopping, I found my original list amongst the groceries, with the word "marigolds" heavily underlined, and written next to it in capital letters GARDEN CENTRE CLOSED!!!!!
So I started applying the out-of-date steroid cream, and continued washing up with naked hands, and eventually the red sores shrivelled away into little scars which I can still see today. My Mum when she saw them – through a window – diagnosed frostbite, and then several weeks later, it transpired that it wasn't frostbite, dermatitis or a Fairy Liquid allergy, but most likely I had been suffering from Covid-Toe, a real but not often reported symptom of the coronavirus which, despite not giving fingers a title credit, does affect both fingers and toes, and looks just like my fingers did in the picture I sent to the doctor. Thank goodness I had been self-isolating with my cough at that time and had not gone into work or taken my covid fingers to stand in the four hour queue for the pharmacy.
Life continued. I worked from home, I painted walls, I read more good books, but at no point did I ever feel I had mastered the art of washing up. I regularly started making drinks or meals only to reject and rewash all the saucepans and glasses that I'd supposedly already washed and put away. Sometimes after doing a big shop I got carried away and cooked a meal using almost every pan in the kitchen, only to feel hugely remorseful later on when I had to wash them all up.
I wondered if I had developed cantwashupitis whilst travelling around Australia and New Zealand two year ago. Most backpackers are notoriously bad at washing the dishes, it's rare you'd ever go into a youth hostel kitchen and pick up a plate or saucepan that you would be happy to use without washing first, perhaps it's a contagious condition that we all pass around to each other whilst sleeping in communal dorms?
I regularly tuned into Boris' updates to see if he was ever going to mention dishwashers.
"Go to work, but don't go to work, stay at home, but go for a walk, wash the dishes, but don't wash the dishes. Do the Hokey Cokey and order a dishwasher."
Boris never actually mentioned the dishwashers, but the time finally came when white goods could be delivered again. When you went to the shop to look at the dishwashers, you weren't allowed to touch them or open them to see inside, and no staff member wanted to come close enough to talk to you about the dishwashers, not when the two metre rule provided a great excuse to ignore all the customers and stand about chatting to their colleagues, so instead I stood next to each dishwasher and Googled to see what it looked like inside, which I could have done just as easily from the comfort of the turquoise sofa at home.
I picked a dishwasher and placed my order with great excitement. It was going to be delivered between 7 and 7 last Tuesday and my Mum was going to be on hand to take delivery of it if it came when I was still at work.
Remember when you were six and you couldn't concentrate at school because you knew something exciting and unusual was going to be happening later that day, like your Grandparents picking you up from school or a favourite cousin coming to stay? Well that was me last Tuesday. So imagine how sad my six year old inner self was when the clock ticked to 7:01pm and the dishwasher hadn't arrived yet.
And imagine how annoyed my 39 year old self was when she realised she was going to have to now wash up all the dishes that she'd purposely been piling up to "test the new dishwasher" on Tuesday night.
But, ever the optimist and the procrastinator, I decided all the dishes could continue to sit on the side, just in case the dishwasher arrived on Wednesday.
It didn't. So on Wednesday night I entered into a fairy long term relationship with the store helpline (you see how kind I'm being by not mentioning them by name?). It took them more than three hours to answer the phone and I spent so much time on hold that by the time they answered, I had forgotten who I was calling and what I wanted to talk to them about.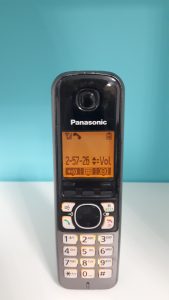 Fearful that they would hang up on me if I didn't say something soon, I quickly composed myself and remembered the situation.
Just to be told that the dishwasher was not coming, and they weren't even sorry.
"Oh yes," he said when I gave him my order number. "I can see exactly what has happened. You're in the grey area."
The grey area did not sound like a place where anyone would want to be.
"I can see that you placed your order on the 30th June. And that's the day that we had a glitch and none of our orders went through."
"Oh okay," I said. "So why didn't anyone tell me?"
"Well because of the glitch," he said as if I was struggling to understand something that was really quite straight-forward.
"Yes," I said. "But you still could have contacted me to let me know it wasn't coming."
"No," he said. "We couldn't contact you because of the glitch. Obviously."
"Obviously? But couldn't you have just sent a message to all the people in the grey area just to let them know that their items weren't arriving? Instead of letting us all sit at home waiting for something that was never going to come?"
"No, because nobody had successfully placed an order. So technically they weren't actually customers."
"Yes but we all thought we were customers. We all wanted to be customers." Suddenly I appeared to be speaking on behalf of all glitch victims, not just myself.
"Yes but none of you actually placed an order."
"But I've got an order number."
"Yes, but your order didn't actually go through."
"So why did I get an order number?"
"Oh," he said, quite cheerfully. "An order number doesn't mean that your order has actually gone through."
"Seriously?"
"Yeah."
"So um…. if I order another dishwasher now, and I get an order number, how will I know if it's a real order number, or if there's been another glitch and I'm back in the grey area?"
"It's always best to just give us a quick ring and check," he said.
"A quick ring?" I exploded. "Do you know that I have been on hold to you for…." I took the phone away from my ear to check "three hours and sixteen minutes?"
There was a slight hesitation and then he said "it's best to ring us at times when we're not busy."
"Okay," I said. "So what time would that be?"
"To be fair we're busy all the time at the moment, because of the coronavirus."
"Right, so I need to hang up, order a new dishwasher, and then ring you back to make sure I'm not in the grey area?"
"Yes," he said sounding absolutely delighted that the thick woman on the other end of the phone had finally got the point.
"Well I can't do that tonight," I said. "It's already six forty-five. By the time I order a dishwasher and spend three hours on hold to you, your call centre will be closed won't it?"
"Yes," he said. "You'd have to call back before seven."
As if he believed I would actually get through.
"Oh," he said. "One more thing. After this call ends, do you mind staying on the line to do a quick survey to say how happy you are with the service you received today?"
"Yes," I said, suddenly thrilled. "I would absolutely love to do that."
"Oh great," he said, sounding like he had absolutely no idea just how much of a slating he was about to get. "Thanks."
So I left some fantastically sarcastic feedback and reordered the dishwasher. I paid an extra £20 because it was no longer on special, but I didn't fancy another three hours on the phone waiting to see if anyone would have enough common sense or compassion to let me have the discount I was supposed to get the first time around. In effect I have paid £20 to save myself from the trauma of another three hours on hold.
And today is the day! It's Tuesday again. It's the summer holidays, we're having a heatwave and I should be in the sea. If the dishwasher arrives then I can cope without my day at the beach, but if it doesn't then I might have to throw some of the dirty crockery across the kitchen to demonstrate my rage. Which will reduce the amount of washing up at least.