A British chocoholic who was expecting to win big at an Easter Sunday online bingo game has had her chances scuppered by her faithful travelling companion, the Renault Clio.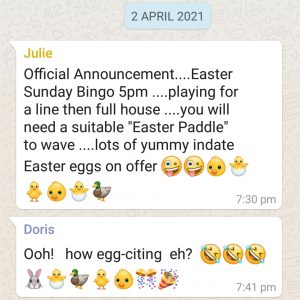 Caroline Gough, who had spent a happy afternoon at Putsborough Beach in North Devon, was about to complete the seven minute car journey home to join the bingo game when she momentarily put her mobile phone on the roof of the car in order to open the boot and place her bags inside.
The motion of opening the boot  encouraged the mobile phone to slide down into the previously un-named space that nobody ever thinks about where the roof of the car joins the boot.
"I couldn't get it out," said Caroline. "It was wedged in perfectly. This is something that the car manufacturers don't tell you about. I bet Which magazine has never done an article about which cars are most likely to kill your Samsung Galaxy."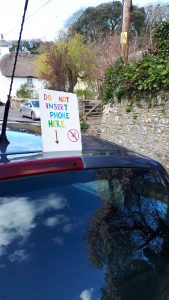 Caroline realised that the only way to release her phone, was to close the boot, but knew this could be dangerous. "If I left it where it was, I'd be in the ridiculous situation of having a phone I could never use and a boot I could never close, but if I took steps to release the phone, I knew the pressure of closing the boot might kill it."
There was an almighty crack as Caroline closed the boot, and she feared the worst as she extracted her phone. "It was completely smashed at the front and the back," she confirmed.
Luckily there was a screen protector on the front of the phone. Caroline got several shards of glass stuck in her finger as she peeled off the protector. Despite bleeding profusely from her forefinger, she was thrilled to discover that the screen was still in tact.
"The battery had gone completely," she said. "I took it home and plugged it in. It was too traumatised to do anything at first, but eventually it declared itself to be on 6% and continued to rise throughout the evening. Obviously by this point I had missed the online bingo and all that lovely chocolate I was destined to win. The Calorie Gods are just not smiling on me this Easter, because as well as missing the Bingo, I bought a pack of hot cross buns from Sainsbury's last week, and it wasn't until I got home that I realised I had picked up the reduced calorie ones by mistake."
The Renault Clio said "I am thrilled to hear that Caroline missed the Easter Egg Bingo. I am well aware that she had already eaten several Easter Eggs before Easter even began and I do not need her adding any more weight to the car when she gets in. I have been a faithful travelling companion for Caroline for twelve years now, and every day I feel more and more used. She never tells me where we're going, she frequently abandons me in a car park with no idea how long it will be before she comes back. She parked me in someone else's garden for nine months whilst she went travelling, didn't even tell me she was going and expected us to pick up where we left off as soon as she got back. Not to mention the time she left me festering in her own sick juices for a week whilst she went swanning off to Lanzarote. I've had enough."
The Renault Clio went on to divulge that when Miss Gough realised a photograph of her car would be required for this article she hastily washed it, but only the side that was going to be in shot.
"The rest of me is muddy, dusty and covered in bird pooh" grumbled the car. "But after twelve years of living outside Caroline's various houses, this is exactly the sort of thing I've come to expect from her."