Spaghetti on toast is not a delicacy that has featured very often in my adult life, and yet this month, as I travel around the North Island of New Zealand, it has become my staple diet.
It all began when I went to the very north of the island, where I had been so busy making sure the places I was visiting would have sandy beaches, safe swimming and sunshine, that I completely forgot to check whether there would be anywhere to buy groceries.
Luckily there was a shop – a little shop with big prices and a snarly shopkeeper who didn't bother replying when I smiled and said hello to him, because he knew I was a captive audience and if I didn't buy his groceries, then I'd be going hungry.
Not that there were many groceries to buy. There were sixteen bottles of tomato sauce, made by three different companies, and eight bottles of garlic mayonnaise but if you wanted to have something more substantial than a squirt of ketchup for tea, then you would be hard pressed to find much.
There was a tin of beans and a tin of sweetcorn, both of which I had to rule out if I didn't want my colitis to flare up, plus a few packets of crackers, paper plates and a choice of plain, self-raising and high grain flour. The only real thing that would pass for a proper meal were two tins of spaghetti so I picked them both up, along with a loaf of bread and was glad that I had bought an excessive amount of jam and butter sachets at the previous location.
Then I realised that neither of the tins had a ringpull and so I hedged my bets and put one of the tins back, just in case I got back to my apartment to find there wasn't a tin opener.
There was a tin opener – hooray, but it wasn't very clean and it wasn't very good. I messed up trying to open the tin at the top: the tin opener cut the tin open in a few places but not enough to open the tin, so I turned the tin upside down and tried to open the bottom, at which point the tin opener separated into two pieces, never to work again.
Next I got a sharp knife, shoved it into the holes that I had managed to make, and tried to cut the metal enough to open the tin, but all I did was bend the blade of the knife out of shape. Not content with damaging two utensils, I quickly ruined a third by forcing the end of a tablespoon into the hole and using all my might to lever the tin open, bending the shape of the spoon in the process. I was then able to squeeze the tin in the middle, to make the spaghetti come out of the tiny hole, but I forgot that I had attempted to open both the bottom and the top of the tin and my newly washed T-shirt was quickly covered in spaghetti sauce.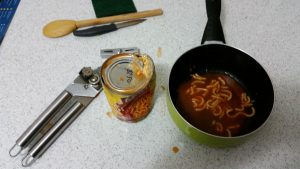 The spaghetti came out slowly, looking not really like spaghetti anymore, but tiny little worms. All the same I was very grateful to see them, cooked half of them, saved the other half for the next day, and threw the very battered tin away in a communal recycle bin a few streets away so that the owners of the apartment wouldn't know it was me who had broken their tin opener.
After two days of tiny worms on toast, I joined a coach tour of the local area and was thrilled to hear we were going to be stopping at a town further up the coast. When we got there I found that the word "town" was a bit of an exaggeration, but there was a slightly bigger shop with slightly better prices and slightly nicer staff than where I was staying, so I dashed inside to find some food to keep me going for the rest of my trip.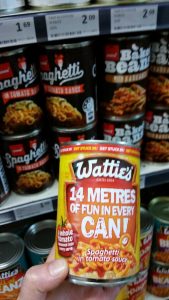 Once again, there wasn't a lot of choice, and whilst the tinned spaghetti boasted to be 14 metres of fun, it didn't have a ringpull, and I wasn't sure that trying to extract the spaghetti from the tin without a tin opener classified as my type of fun, so I decided to leave it. But then I discovered the tinned spaghetti with little sausages did have a ring pull, so I bought a can of that instead, and a packet of Boysenberry jelly which would turn out to be the highlight of my dietary day.
In England, the cocktail sausages in a tin of spaghetti and sausages are made of pork, and it was an excellent fast meal to have as a child, usually on a Monday evening when it was a fast turn around to get home from netball club and out to Brownies. On the other side of the world, the sausages in a tin of spaghetti and sausages are constituted from beef and lamb and they are sadly disgusting. But at least no kitchen utensils were harmed in the making of that meal. And the jelly for dessert delighted my tastebuds even if nothing else did.
After four spaghetti on toast filled nights, I went to stay with a friend who fed me proper food and took me to restaurants and I didn't even give spaghetti on toast a fleeting thought, until I found myself on my own again, in another remote part of New Zealand with a beautiful beach and limited amenities. The shop keeper was grumpy, the prices were extortionate, the stock was limited, but there was the faithful tin of spaghetti calling out to me from among the tins of beans and corn and carrots. I paid a small fortune for it, and took it back to the backpackers where I was thrilled to find TWO tin openers. Great, I thought, if I break one, I can try my luck with the next one.
It all went smoothly, and whilst other backpackers (who must have had cars to get to a supermarket somewhere) conjured up amazing dishes full of different flavours and ingredients, I cooked my spaghetti on toast and sat down at the communal table to eat it.
"Wow," said the girl sitting opposite me. "Enjoy your meal."
"Thanks," I replied, and felt a bit disconcerted as she watched me tucking into my first few mouthfuls as if I was some sort of exhibit she had paid to come and see.
Then she broke her silence. "I have never seen anyone eating spaghetti on toast before." She was not from England, and clearly hadn't ever had to rush from netball club to Brownies in less than an hour on a Monday evening.  "Tell me," she said. "I am very interested. How do you make this?"
"Well," I said, as if summoning myself up to impart some sort of culinary secret. "You put the spaghetti in a saucepan and cook it for about six or seven minutes."
The girl nodded and furrowed her brow as if she was preparing to remember something very complicated.
"And in the meantime you toast the bread and put butter on it, and then you pour the spaghetti over the top."
"Wow, that's great," she said, and proceeded to watch me as I devoured the rest of my meal.
The next night I had the other half of the tin to eat, and hadn't even had my first mouthful when a guy who previously had been sitting on a window seat plugged into technology, immediately took out his earplugs, strode over, sat down and told me how spaghetti on toast made him nostalgic for his university days at Coventry University. We ended up talking for most of the evening, where he later confessed that he had hated his time at Coventry University, but at least he had happy memories of the spaghetti on toast if nothing else.
Who knew that spaghetti on toast could be such a talking point.
The next day (today) I had planned to eat out at the pub which had an amazing beer garden, full of fairy lights with wonderful food smells and atmosphere emanating from it every time I walked past. However I had forgotten that the next day was Good Friday, and therefore everyone would be at the pub, so I had resigned myself to another night of spaghetti on toast.
But then something wonderful happened! A man was walking towards me carrying a white paper parcel that looked suspiciously like a fish and chip takeaway.
"Is that fish and chips?" I asked unnecessarily as the man came nearer, the unmistakable smell of fish and chips finding its way into my nostrils.
"Yes," he said, looking quite delighted, and pointed me in the direction of the takeaway, hidden in a little shed that I hadn't noticed before. I quickened my step and found that they were just calling "last orders" – goodness knows why at 6:47pm on Good Friday in a seaside village. I was the last person allowed to place an order, and then I took my fish and chips to sit and eat on the beach.
It was blissful. But I'll probably be back on the spaghetti tomorrow.