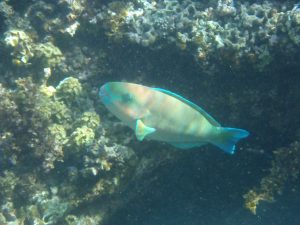 A British backpacker who loves snorkelling has announced that she will no longer be eating fish, following her most recent adventures under the sea.
Caroline Gough made the announcement soon after her arrival at the Ningaloo Reef in Western Australia.
Caroline who spends more time in the water than she does on land told us: "There's an amazing underwater community down there. Just like us, the fish have their own homes and their own favourite places to hang out, and I love revisiting certain parts of the reef to check-in on some of my favourite fish. We were very happy swimming about together and the thought of those fish no longer being there because they've been hauled out of the sea to make my dinner is horrific."
It is understood that Caroline has been making friends with fish in various Western Australia snorkelling hotspots, including Coral Bay on the Ningaloo Reef, Little Salmon Bay on Rottnest Island, and Trigg, near Scarborough in Perth.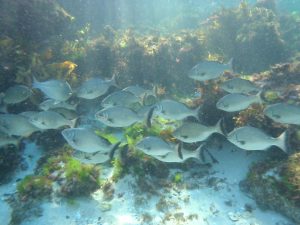 But a source close to Miss Gough claims that this is nothing new. "Every year Caroline goes on holiday to Lanzarote or some Greek Island and she comes back telling us how she's made friends with all these fish and therefore won't be eating them anymore. It always lasts a couple of months, but as soon as she goes back to North Devon, it's game over. Everyone knows she can't drive through Braunton without popping into Squires fish and chip shop for a piece of cod or a fishcake."