A British backpacker has found herself spending part of the day with an unwelcome admirer at the popular tourist resort of Coral Bay on the Ningaloo Reef.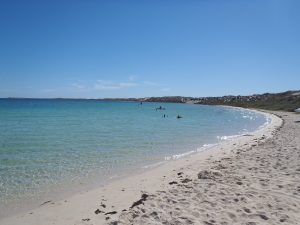 Caroline Gough had previously met Shane Hennessey on an 8 hour boat trip where they had snorkelled the outer reef and swum with a whale shark. Caroline said "I only noticed Shane because when we got back onto the boat following the first snorkel he was standing astride my bag and dripping water all over it. I raced over to angrily extract it from between his legs and after that he seemed to think he'd found a friend. It's hard to get away from someone who is intent on following you when you're on a tiny boat, but luckily I was able to escape at the end of the day without giving him my number."
However the next day as Caroline left her backpacking hostel to set off for a day at the beach, she found Shane loitering outside. "It was a bit Freddy Eynsford-Hill from My Fair Lady," she told us. "He seemed to think it was a huge coincidence that he was hanging around outside the place where I was staying and even more of a coincidence when I said I was going to the beach."
Mr. Hennessey claimed that he was also going to the beach, however this claim was considered unreliable as Mr. Hennessey was walking in the wrong direction for the beach. On arrival at the beach this claim was further disputed when it transpired that Mr. Hennessey had no suitable attire or equipment for being at the beach and had to return to his campsite to collect a few basic items.
Miss Gough who had at no point confirmed that she would like Mr. Hennessey to join her at the beach told us "The Ningaloo Reef has been on my bucket list for a while. I spent a lot of money to come here, and I wasn't going to compromise even one of my precious Coral Bay days just because a random guy who dripped water all over my bag needed someone to talk to. I decided to carry on with the day I had planned and he could either go with it or go away."
By the time Mr. Hennessey returned to the beach, Caroline was already in the water. "When I come to a beach with a reef I spend hours snorkelling up and down the bay visiting the fish," she said. "Different fish hang out in different places and I like going all over the reef and then back to the same spots to revisit the fish I've already seen."
Mr. Hennessey who is not keen on exercise got quite a work out as he followed Caroline all over the reef. "She was far more interested in the fish than she was in me," he said.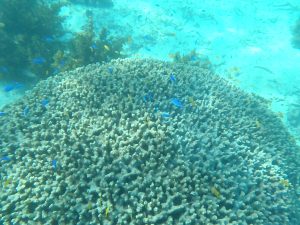 After a while, Mr. Hennessey decided he needed a rest. "He seemed to think that because he'd had enough, I should get out of the water too," said Caroline. "But I came all this way to the Ningaloo Reef to see the fish, not the random men who loiter outside youth hostels, so I told him I was going to carry on snorkelling."
When Caroline emerged from the water over an hour later, Mr. Hennessey raced down to the shoreline with her towel, which he proceeded to wrap around her. "I think he was trying to be chivalrous," said Caroline. "But I just thought it was a bit weird."
Mr. Hennessey had high hopes that Caroline might now be ready to leave the beach, and invited her back to the campsite to have a look at his tent, but Caroline politely declined and explained she was going to stay at the beach until at least sunset.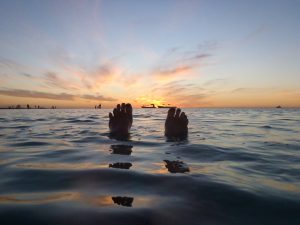 Mr. Hennessey who lives in Perth is currently on a three week road trip of Western Australia. "I understand that he is clearly looking for love or friendship or both," said Caroline.
"He didn't strike lucky with me, but there are plenty more fish in the sea. Literally. In fact I think I'll go and have another snorkel right now."