A desperate backpacker reportedly went to extraordinary lengths to try and block out a snoring roommate at a hostel in Perth yesterday evening.
Caroline Gough who was the last to go to bed in the six bed dormitory explained: "The room was dark when I went in, and smelt like a thousand farts. Plus somebody was snoring really loudly. It was a real sensory experience."
Caroline who usually ensures that essential items such as her sleeping mask, toothbrush and earplugs are placed under her pillow so that she can find them in the dark admits she made a rookie mistake. "The mask and toothbrush were there, but there was no sign of the earplugs. I couldn't believe it."
Whilst Caroline's quiet rustling in her bag was enough to briefly stop the roommate from snoring, ultimately she was unsuccessful in locating the earplugs, and this is when she resorted to desperate measures.
"When I'm in Australia, I only buy confectionary that isn't available in England," she said. "And although I couldn't find my  earplugs, I did find a packet of sweets, or lollies as they call them here in Australia."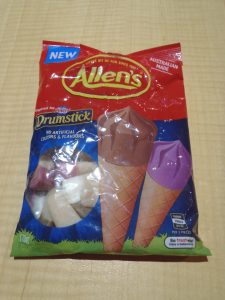 The sweets, made by the Australian confectionary company Allen's are designed to look like drumstick ice creams, similar to a British Cornetto.  "They are very foamy in texture." explained Caroline "In fact they are quite similar to an earplug in terms of size and squishiness."
Caroline said "There was no way I was going to be able to sleep with the unrelentless noise of Dora the Snorer, so I decided to experiment with the foamy sweets."
The sweets come in a variety of three flavours. "The chocolate ones and boysenberry ones are delicious," said Caroline. "But the vanilla ones don't have a lot of flavour, so I decided they could be sacrificed so that I could get a good night's sleep."
Caroline first attempted to put the cone end into her ear canal. "It's sort of the right shape," she explained. "But it didn't bounce into place the way that an earplug does." Caroline then attempted to put the ice cream end into her ear, and when that didn't work, she bit it in half and tried to nibble it into a suitable shape to work as an earplug. "Sadly I couldn't make it work," she told us. "Foam sweets are clearly not designed to be substitute earplugs. All that really happened was I got a bit of an earache."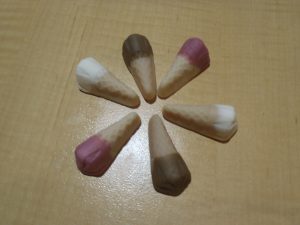 The next morning after a dreadful night's sleep, Caroline discovered a full packet of earplugs in her pajama pocket. "I had obviously put them there so that they would be easy to find" she told us.
The Cazmanian Times does not recommend that readers should attempt to insert any type of confectionary into their ear canals.