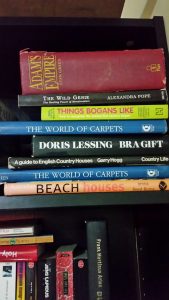 A British backpacker has been left baffled after browsing the selection of books at her latest hostel.
Caroline Gough, who has been travelling around Australia and New Zealand for the past six months explained "Most hostels have a book swap shelf. It's great for leaving behind the book you've just finished and choosing a new one. I've read some brilliant books by authors I would never have heard of if I hadn't come backpacking."
However when Caroline began the search for a new book at the Ocean Beach Backpackers in Cottesloe, she was somewhat surprised by the selection available.
"Most people can probably get by in life without ever needing one copy of 'The World of Carpets', yet this hostel has two copies available. And I'd love to meet the backpacker who has the strength to add 'Adam's Empire' to his or her backpack and trek round Australia with it."
The bookshelf also appears to have  specialist section about women, featuring titles such as 'Bra Gift' and 'The Wild Genie – the Healing Power of Menstruation' as well as books about beach houses, English country houses and things that bogans like.
Caroline said "There were some books by authors I like, including Jojo Moyes and Harlen Coben, but unfortunately they were written in other languages. I am currently on a 184 day streak of learning Dutch with the Duo Lingo App on my phone, but as I'm still learning fairly basic phrases such as 'the cat has a tail' and 'the man is eating a sandwich' I'm probably not yet fluent enough to tackle a gritty thriller written in anything other than English."
Caroline will depart to the Billabong Hostel in Perth later this evening where she hopes to find a more mainstream selection of books to choose from.