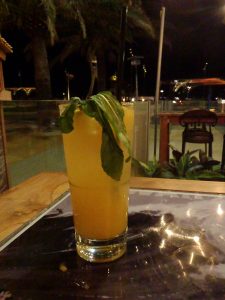 A British backpacker has found an unexpected piece of limp foliage in her cocktail this evening.
Caroline Gough, who was dining out at a trendy bar in Scarborough, Western Australia ordered the cocktail containing Malibu, Bacardi, mango, passionfruit and lime juice.
"It definitely didn't mention anything about a limp green leaf." Caroline said "All the other diners were drinking wine or beer and none of them had wilted leaves draped over the edge of their glasses. I can only presume the waitress bumped against a neglected dying plant as she hurried across the restaurant and the leaf fell into my drink."
Caroline who suffers from an inflammatory bowel disease called colitis said that she will not be attempting to eat the leaf which she believes would play havoc with her digestive system if digested.
"However I did sniff the leaf," Caroline said  "and it smelt a bit like Colgate which reminded me that I need to buy some toothpaste on the way home. So some good has come out of this at least."