A busy British teacher who attempts to write stories in her spare time was surprised to find herself locked out of her own blog this weekend.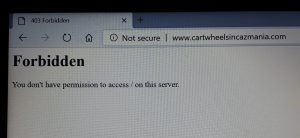 Caroline Gough from Georgeham in North Devon repeatedly attempted to access www.cartwheelsincazmania.com only to be told that she was forbidden from entering the site. It was only when friends from other parts of the globe reported the same issue that Miss Gough realised why everyone has suddenly been banned from visiting the site.
"Cazmania has gone into lockdown," she explained. "If you look at the list of countries that are safe to visit, you will see that Cazmania is not on there. No country shares an air corridor with Cazmania. There aren't any available flights to Cazmania. Clearly a very strict Travel Ban has been imposed on the whole of Cazmania."
Caroline has been cartwheeling in her own back garden whilst the lockdown restrictions are imposed.
"What's ironic," she said "is that nobody will actually be able to read this story until Cazmania opens again. By which point it won't be news anymore."