What happens when Boris announces another lockdown? Everyone goes Christmas shopping. The pubs sell off all their beer at crazy discount prices, and everyone makes the most of being able to go out and see their friends and family before getting locked down for another month. The restaurants and pubs were as busy on the Monday, Tuesday and Wednesday before lockdown as they had been on Monday, Tuesday and Wednesdays in August when we were Eating Out to Help Out.
And it wasn't just the shops and the pubs that squeezed in as many socially distanced customers as they could before lockdown, all the hairdressers stayed open until 10 o'clock every night as well.
I don't have a hairdresser. I am nobody's loyal customer. There is no Tania or Sandra or Julie who is going to move heaven and earth to fit me into an already full calendar just because I ring up at the last minute pleading for an appointment. I nearly didn't bother. I thought they would laugh down the phone if Random Caroline phoned up wanting an appointment before lockdown. But then I looked in the mirror at my eyebrows and eyelashes that haven't seen a hint of tint since January and the long blonde hair that's getting a bit too long even by my standards, and I thought I should at least try.
Have you seen me? My hair is long and blonde. It spends a lot of time in the sea. It's not as if I can plug a hair straightener into a nearby rock after every surf to make my hair look good again. It needs to be low-maintenance. During my 39 years on this Earth I have learnt that when I am stupid enough to let anyone cut my hair shorter than my shoulders, it will spring up and do a terrible impression of pretending to be a thick and unattractive bush all around my head. It looks absolutely glorious for the first three days because the hair dresser will have tended to it with an expensive pair of fancy straighteners, but then I wash it, the magic of the straighteners is washed away, and the giant unwieldy bush quickly takes formation.
I am not a morning person so the last thing I want to do is add any extra minutes to my morning routine by having to use hair straighteners, especially when I then spend the rest of the day wondering if I remembered to turn them off, or if I will arrive home to find that my house has burnt down.
Therefore I have learnt that there are only two styles of haircut that I can get away with – long hair, and even longer hair.
This is what I explained to the hairdresser at 6pm on the Tuesday before lockdown as I settled into the seat for my 6pm slot. I told her I wanted long layers. I showed her where the layers should be. She asked about definition around my face, I said yes, as long as I can still tie my hair back. We made a plan, and then she completely ignored our plan and did all of the things I didn't want her to do.
Clearly, definition around my face is the part she was most excited about, because she has incorporated so much of my hair into creating the definition around my face that there was almost no hair left to make up the long layers… you know, the bit I actually wanted.
Obviously I didn't realise this until later on, so we chatted kind of happily whilst she destroyed my hair. The room was filled with socially distanced hairdressers and customers, all wearing masks and all talking about covid.
"I guess you don't ask people about their holidays anymore," I quipped.
Going to the hairdressers has always terrified me. Staring at yourself in the mirror, whilst trying to make polite conversation with a complete stranger who is in the process of butchering your hair. It's not the best set-up for a flowing conversation. When I was a teenager I sat quietly, watching every other hairdresser and client deep in cheerful chat, assuming that one day when I was nearly 40, I'd be one of those people who could have a cheerful conversation with a hairdresser.
Now that I am nearly 40, I realise I will never be one of those people.
"Do you use a hairdryer?" she asked during one of the many lulls in our conversation.
"Not very often" I replied. She doesn't need to know that my hairdryer is older than she is, that I got it for my 15th birthday, because when I was 14 and three quarters I had been to the hairdresser and got my hair layered for the first time and went through a very vague and very short-lived period of being slightly interested in hair and make-up. And that in the past 24 years, I have at no point seen any need to upgrade the hairdryer, mainly because it spends 97% of the year in the cupboard, 0.5% being used and the remaining 2.5% of the time sitting on the stairs waiting to be put back in the cupboard again.
"What I usually do," I told her, "is set my car heater to cold air, put it on full and point it at my head. My hair is always dry by the time I get to work."
"Oh," she said, sounding quite surprised. "Nobody's ever said that before. That's a really good idea."
"You should try it," I said, knowing that she never will, but that every time she adjusts the heating in her car from now on she's probably going to think of me.
It took her two hours to not put any long layers in my hair, as she concentrated on making almost every strand define my face. Then I had to run as fast as I could down the road to the beauty salon because my eyebrows had an 8pm appointment with someone called Poppy.
Usually I get my eyes done in London. I get a lot of satisfaction from telling people that I get my eyebrows and eyelashes done in London, because I'm not the sort of person who would ever go on a round trip to London just for the sake of an ablution.
The actual truth is that just like hairdressers I had never found a regular beautician. They were either really easy to talk to, but made my eyes look terrible, or they made my eyes look lovely but had terrible conversation. One accidentally spat on my face once, and we both left the spit sitting on my forehead, I was too polite to acknowledge it was there, and she was probably too mortified to wipe it off.
Then one day, just by chance when I was in London for a theatre weekend I had an hour to kill and eyebrows that needed attention so I had a spontaneous walk-in appointment with the truly wonderful Kim, who didn't just make my eyes look amazing but also made great conversation and didn't spit on my face once, and ever since that day, I haven't even considered letting anyone else near my eyes. Having my eyes done with Kim is now as big a part of my London routine as going to the theatre and eating al fresco at Vespa.
Except of course, London theatre weekends are not happening anymore, and the tint that Kim put on in January disappeared months ago. So I was taking my chances and hoping that Poppy would be able to do a good job.
When I arrived, there was a loud conversation taking place. You know how sometimes when some people lose one sense, the others become more powerful? Well the lady on the bed having a treatment clearly thought that because her eyes were shut and she couldn't see anyone, she needed to shout so that everyone else could hear her, and the beautician treating her, matched her volume by shouting back at her. Poppy was also shouting her own contributions to the conversation, so she ignored me as much as possible so that she could shout with the others.
Unfortunately they were talking about teachers. Shouty Lady 1 had four children, Shouty Lady 2 had three children and Poppy had two children. They were still absolutely outraged about having to home school their children during the first lockdown, and even though schools were not going to be closing during the second lockdown, they still felt they needed to spend a lot of time shouting to each other about how mad they would be if the schools did get closed again, how ridiculous it was that anyone should expect them to educate their own children, how teachers shouldn't be sitting around on their arses when they could be on the front line teaching their children and how ludicrous it was that Henry and Delilah both got sent home for coughing and having high temperatures last week when there wasn't a thing wrong with either of them, and clearly the teachers would just do anything they could for an easier life.
"So what do you do for work?" Poppy asked me, when there was a lull in the conversation.
I'd been prepared for this and I was going to lie. Except I'm not very good at lying.
"I'm a teacher," I said, but it came out all squeaky and high-pitched, because it wasn't what I'd been planning to say, I'd actually been concocting a brilliant story in my head about being a copywriter.
Well it was enough to kill the conversation. Shouty Lady 1 tutted, Shouty Lady 2 said something I couldn't quite hear which was ironic given how shouty she had been in the previous conversation, and everything went very quiet for a very long and awkward time, until Shouty Lady 2 said "did I tell you that Melissa's pregnant again?" and the three of them started gushing.
That was the end of my conversation with Poppy. I went home with my new look, and realised I was going to need to make the most of the next couple of days because as soon as I washed my hair it was going to be an absolute nightmare.
And I was right. It might have defined my face when it was straight, but now it springs up and flicks about in all directions. Just like it always does every time I'm stupid enough to go to the hairdressers.
So now I am doing the very thing I was determined to avoid, getting up extra early every morning, so that I can sit in front of a mirror straightening my hair, staring at my reflection, wondering how I can be nearly 40 and still be making the same mistakes I made when I was 17.
To the person who really wanted an appointment before lockdown and didn't get one, I really wish you could have had mine.
And to everyone reading this who knows me… at least by the time I'm allowed to see you all again my hair will have grown a little bit longer.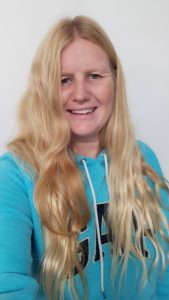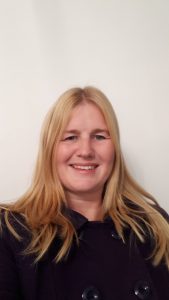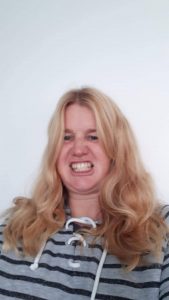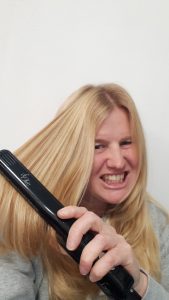 If you have enjoyed this story,  you might like to read the step-by-step guide on how to be the beautician from hell – based on a true story from my travels in Australia: