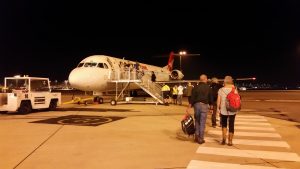 A British backpacker was treated to some unexpected in flight entertainment when she boarded the flight from Perth to Melbourne this evening.
Caroline Gough who had intended to spend the three hour flight catching up on her diary and looking out of the window instead found herself sitting next to Jason, a 34 year old night security guard who was travelling out of Western Australia for the first time.
Caroline explained "It began before I even sat down. When I arrived at seat 29A it looked as though someone was already sitting there. But it transpired that it was just Jason's sleeping bag and huge anorak, arranged on the seat to look like a person. Jason initially asked if I could find a different seat as he had so much luggage but I explained that I had to sit in the one allocated to me."
Once seated, Caroline tried very hard not to mind as Jason's elbow, sleeping bag and anorak continuously protruded into her personal space. "I was really hoping the air hostess would come along and insist he put his things in the overhead locker, but he managed to squash them all down flat when she walked by, and she didn't notice."
Jason who was on his way to Melbourne for a stag party had already had several alcoholic beverages before boarding the plane. After the cabin crew had sat down for takeoff, Jason turned around and asked very loudly if they could please bring him a vodka and some pear cider,  but he was told that as the plane was currently taking off he would have to wait. "I don't think Jason has travelled on many planes," Caroline told us.
Jason was disappointed that the drinks trolley started at the other end of the plane and pressed his call button several times to try and hurry the proceedings, however this was unsuccessful.
When the trolley arrived at row 29, Jason wasted no time putting in his order for two pear ciders and a mini bottle of vodka. Caroline then attempted to order a hot chocolate at which point the cabin crew realised that Caroline and Jason weren't a couple and that all the alcohol he had bought was for his own consumption. "We're not supposed to serve more than two alcoholic drinks per person per hour," said the air hostess worriedly.
Jason had several friends dotted around the plane, including one who was sitting behind him. "He turned on his phone to take a picture of his mate who had fallen asleep, and then casually commented that he didn't think you were supposed to use phones on aeroplanes, but it must be okay because he'd seen me using mine. Trying not to panic, I asked him if he had it in flight mode and he said no. I quickly helped him to find flight mode, but he didn't seem to understand the importance of it. He was too busy lamenting the fact that the plane didn't have wifi and this was when he suggested a game of I Spy instead."
Jason's first offering was "I Spy with my little eye something that sounds like Can Fun". After quite some time, Caroline successfully realised that the answer was "Man Bun" and hoped the man with the bun sitting directly in front of her hadn't heard their conversation.
Jason's sleeping mate woke up to join in the next round which Caroline had announced was something beginning with D. Jason's mate randomly guessed detention, dementia, and defencer, none of which were visible on the plane.  Jason asked if it was a verb or a noun. "I told him it was an abstract noun, but that confused him so I simplified it by telling him it was outside. Jason triumphantly shouted 'air' but I reminded him it began with a D. His mate chimed in with "devil" before Jason successfully guessed "darkness".
Next Jason had D for dreadlocks, but as nobody on the plane had dreadlocks, Caroline had to rely on Jason's clues  ("a bit like a man bun but not" and "rastafarian") before she could guess correctly.
The conversation then turned to England and Caroline attempted to dispel Jason's belief that everyone has to go to the pub in England because there's nothing else to do.
Then the drinks trolley came past again and Jason attempted to buy two more pear ciders and another mini bottle of vodka. Caroline told us: "the cabin crew refused to serve him because he'd already had his three drinks. He said that they were for his mate who had gone back to sleep behind us. The cabin crew told Jason to press the call button when his mate woke up and then he could buy the drinks. Jason stood up, whacked his mate in the belly and told the cabin crew that his mate was now awake."
As a passenger is only allowed two drinks per hour Jason could only purchase a cider and a vodka for his companion. His companion promptly went back to sleep and Jason drank both drinks himself, complaining about the alcohol purchasing restrictions.
"It's so stupid that we can't drink as much as we want. We're not children," he said to Caroline, then proceeded to draw male genitalia all over the sick bag before placing it back into the pocket in front of him.
"He told me it will cheer up the next person who feels sick" said Caroline.