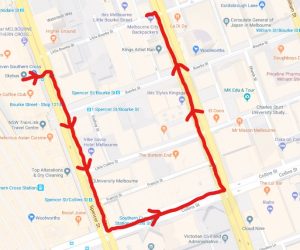 A British backpacker has been led all around the houses by a guy who shouldn't have offered to give her directions.
The incident occurred in Melbourne last night, when backpacker Caroline Gough emerged from the Skybus stop at Southern Cross station.
Caroline explained "One of the things I have learnt about myself since I started travelling is that even after looking at the map and thinking I understand where to go, I will always, without fail, walk in exactly the opposite direction. It's tricky, because now I don't know whether to go against my instincts and walk in what I think is the wrong way, as past experience shows that's more likely to be right."
Caroline was looking at the map and had just realised she was definitely going the wrong way when a passing stranger offered to help her.
"He got out his phone and looked up the address of my hostel, then confidently strode off in the same direction that I had been heading, pulling my stripy suitcase behind him," Caroline told us. "I was certain that we were heading the wrong way, but nevertheless walked beside him, listening as he told me everything he knew about England, even though he's never been there. Strangers like to do that."
Caroline said "Usually people give you directions and then carry on with their lives, but this guy decided it was his personal responsibility to physically deliver me to the hostel himself, even though he had no idea how to get there."
The centre of Melbourne is laid out in a block formation, so the man was able to lead Caroline around the city in a huge rectangle, hoping she wouldn't notice that they were going back on themselves and it would have been twenty minutes quicker if he hadn't stepped in to offer some help.
"We had stopped at the corner of Francis Street and Spencer Street whilst he checked his phone to confirm we were still going in what he thought was the right direction. Then ten minutes later when our giant detour showed us the other end of Francis Street, he tried to distract me from noticing by asking me complex questions about Brexit."
Caroline said she didn't mind going on a detour of Melbourne. "I go charging off in the wrong direction all the time," she said. "It was refreshing to see that other people make the same mistakes as I do."
When the pair finally arrived at Melbourne City Backpackers, the man chivalrously carried Caroline's bags into the hostel and down the stairs to reception, then gave her his business card and suggested they go for a drink one day.
Caroline said "I might call him. But if we did go for a drink, we'd probably both get completely lost looking for the meeting point and never actually find each other."