A British backpacker has found herself starring in a collection of scenic photographs taken by previously unknown German photographer Natascha Zimmermann.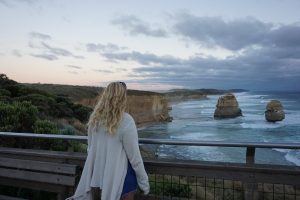 The photographs were taken in a variety of locations during an organised two day tour of the Great Ocean Road in Victoria, Australia.
Caroline Gough from North Devon explained "Natascha was travelling alone and so was I. When we got to the first beach, she offered to take my photo and I did the same for her. As a solo traveller you don't often get to appear in your own photographs, so this seemed like a mutually beneficial arrangement."
The situation quickly escalated however, as it emerged that Natascha had quite a controlling personality and was also very much a perfectionist.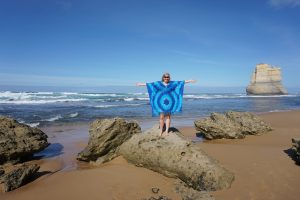 Caroline explained "At every location I had to take five photographs of Natascha with this huge heavy camera of hers that I was terrified of breaking. One photo of Natascha with sunglasses on, one with sunglasses off, one of her with her facing away from me looking at the view, one of her with her back to me and her arms outstretched in what she called her 'flying' pose and another of her facing the camera with her arms in a letter Y position, which she called the 'sunworshipper'. Then because her super-duper camera doesn't have wifi, I had to take at least one, but often three, more photo of her with my phone, so that I could What'sApp them to her and she could instantly put them on Facebook. Then we'd walk about six steps, see the same view from a slightly different angle and the whole process would start all over again."
After Caroline had taken the photographs, Natascha would scrutinize them, and often order for them to be retaken if Caroline hadn't taken the perfect photo.
Natascha was equally controlling when it was her turn to take photographs of Caroline. Caroline explained "Really I would have been happy with just a couple of photos here and there, but Natascha took things to a completely different level, ordering me to turn and look at the view, look at the camera, stand on one leg, it was a nightmare."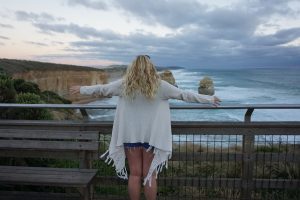 Caroline had also made the unwitting mistake of wearing clothes that sparked Natascha's artistic imagination. "Because I was swimming at each location we visited I ended up just throwing on my sarong when I got out of the sea, and wearing it over my bikini for a lot of the day. Then in the evening I was wearing my cardigan that thinks it's a rug. Both of these items are long and flowing which really excited Natascha and she was keen to photograph me in a variety of weird poses which apparently brought my clothes to life. It didn't help that there was a guy from America who kept nodding in agreement and saying unhelpful things like 'ethereal baby.' "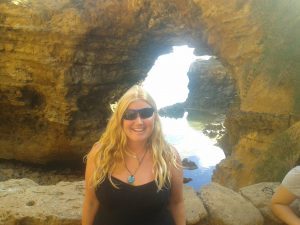 Possibly the most ironic part of the story, is that Natascha herself is in fact not a very good photographer. "There's this rock formation called the Grotto" Caroline explained. "And it's quite a famous location along the Great Ocean Road because if you stand right in the centre of it and the photographer aligns it correctly, it looks like you are in a huge rocky photo frame. I've seen other people's photos in the past and they always look really cool. This  was one photo of myself I really did want to get and I was totally going to be uploading my photo onto Facebook as my new profile picture as soon as I got some wifi."
However when Caroline looked at her photo of herself at The Grotto, she realised that Natascha had missed the point completely and not placed Caroline in the photo frame at all. "I was very disappointed," admitted Caroline.
Things came to a head on the final day of the tour when the group stopped for lunch in the seaside town of Apollo Bay. Caroline said "I could foresee that it was going to be a painful hour of wandering from café to café waiting for Natascha to find an appropriate vegan dish. Then she'd want to have a photoshoot of whatever she was eating, another photoshoot of me and her in different poses on the beach and then it would be time to get back on the bus. None of that really appealed to me so I announced that I wasn't very hungry and was going to spend the whole hour in the sea."
Witnesses confirmed that Natascha was seen sadly roaming the town, before picking at a cold bean and rice salad.