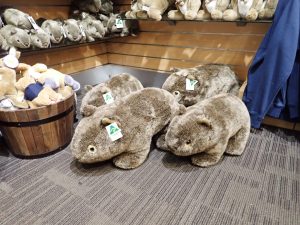 A British backpacker has spoken of the possibility that she may bring a lifesize wombat home to England despite admitting that it would be a financial and logistical nightmare.
Caroline Gough first saw the lifesize wombats for sale several months ago at a souvenir shop near the Opera House at Sydney's Circular Quay.
"Lots of people take home koala or kangaroo memorabilia," she said. "But wombats don't seem to be as popular. And these ones are particularly cute. I can definitely picture one of them sitting beside my fireplace at home."
The wombats come in the sizes of large and even larger and retail at the prices of AU$99 (£56.32) and AU$175 (£99.56) respectively.
"Obviously I don't want one now," said Caroline. "He would be far too cumbersome to lug around Australia and I'd rather be spending my money on seeing real animals than buying fake ones. But I can just imagine that when it's my last night in Australia and I'm walking around Sydney wishing the adventure wasn't about to be over, I may well convince myself that buying a lifesize wombat is exactly what I need to help myself feel better about leaving."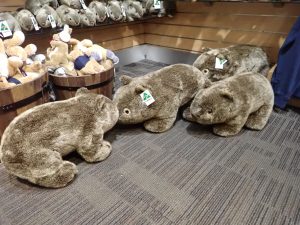 Caroline has contacted her airline to find out how feasible it would be to bring a lifesize wombat onto the plane. "I wouldn't say they were exactly thrilled about it," she said. "But I don't think he's any bigger than those giant wheelable suitcases that qualify for hand luggage. I'm sure I could fit him in an overhead locker."