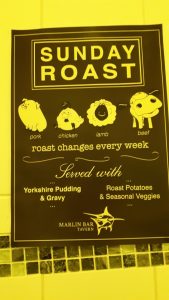 A Queensland waitress has spent her evening shift demonstrating that she knows all the words to each and every song played in the pub restaurant, but cannot name a single vegetable that comes with the Sunday roast dinner.
The waitress loudly sang her way through Ed Sheeran's "Perfect", Take That's "Greatest Day" and Billy Joel's "Piano Man" putting far more enthusiasm into her singing than her table wiping or customer service skills.
Caroline Gough who was dining at the restaurant in Horseshoe Bay on Magnetic Island had initially considered ordering the Sunday roast but first wanted to clarify exactly which vegetables would accompany it.
"The waitress seemed a bit stunned by my question and spent several seconds blinking and stumbling for what to say before giving her answer."
The waitress explained to Caroline that all the vegetables were seasonal ones. Caroline asked what sort of seasonal vegetables and the waitress said "ones that have grown this season."
"Obviously at this point I played the tourist card," said Caroline "And explained that as I come from England, I don't know what's seasonal in Queensland in June. Clearly the waitress doesn't know what's seasonal in Queensland in June either, because she just looked blank and said 'potatoes' in an unconvincing voice."
The waitress did not appear to think  it was her responsibility to take any further steps to confirm what the seasonal vegetables might be, and Caroline who suffers from colitis and can't tolerate certain vegetables decided she did not want to risk a blind date with a plate of seasonal vegetables that might make her unwell, so she ordered a chicken parmigiana and chips instead. "You know where you are with that," she told us.
Once Caroline had made her decision, the waitress decided there was no need for any further conversation and instead threw herself lustily into a heartfelt rendition of "You don't have to say you love me" by Dusty Springfield.